Fairy Meadows National Park is beautiful destination for Mountain Adventure Lovers. It is located in Diamer District of Gilgit-Baltistan, Pakistan at the base of Nanga Parbat. It was discovered back in 1953 by an Australian climber Hermann Bhul, and named this place as Fairy Meadows due to its unmatched beauty. He was here to climb the Killer Mountai, Nanga Parbat. Later in 1995 it was officially declared as "Fairy Meadows National Park" by Govt. of Pakistan.

Fairy Meadows Tour Overview
Due to its mesmerizing beauty, Fairy Meadows is known as "Heaven on Earth". People usually visit this place from mid April to September.  Although foreigners visit this place all over the year but peak travel months to visit Fairy Meadows are June-July-August. 
How to Reach to The Heaven on Earth:
If you are traveling from Islamabad there are 3 Routes to reach at the destination.
Check Routes and Expenses to reach the Destination
Night Stay at Fairy Meadows
If you wish to travel and Stay Fairy Meadows then luxurious traditionally constructed wooden cottages are there waiting for you. Night stay at fairy meadows is real fun, most of the tourist like to use the camping and if you want to have the wooden cottage then you can get a room PKR 3000-5000 depending on the condition. You'll enjoy lot of activities bonfire, local people dance, great music and amazing food right at the North side of Nanga Parbat with white glistering view. Even the sky is so clear and stars are sparkling so closely if you have time you can count starts.
The real fun begins with the breeze coming from the Nanga Parbat and you are really Lost in Wild. Staring at the stars, listening to the breeze, walking on the lush green, loving the way moonlight stares at the Nanga Parbat, and the cozy breath of Killer Mountain kisses your cheek and you are eventually Lost In Wild at the "The Heaven on Earth".
Bonfire
Daytime Activities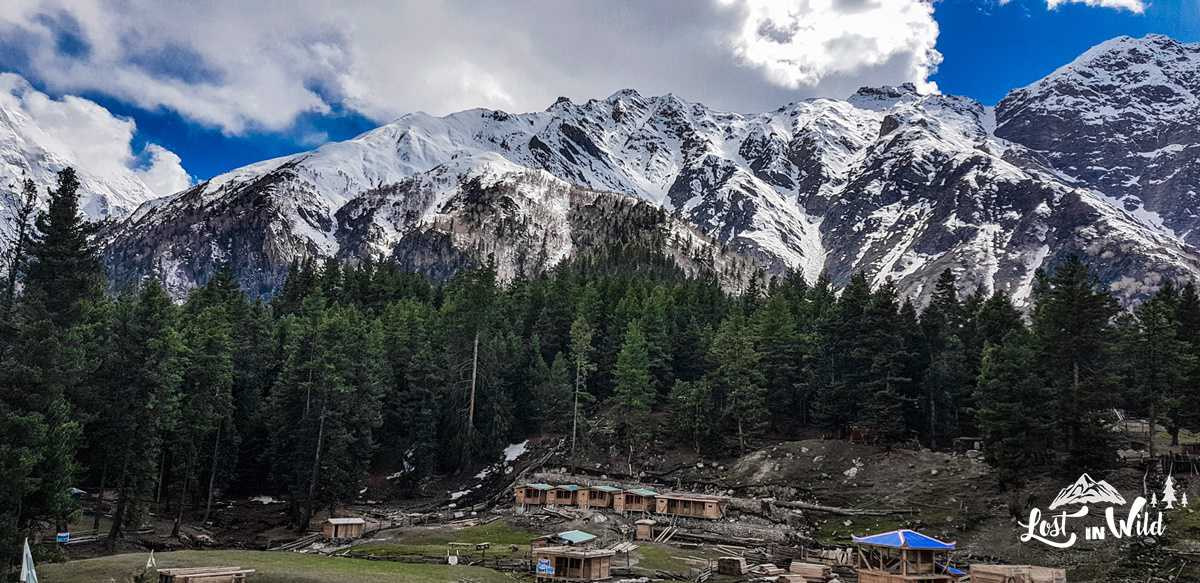 There are plenty of daytime activities for the adventurers which will fill your venture appetite. The daytime activities are Hiking / Trekking , Dancing & Music, Horse Riding, Photography, and the best place to lost in wild.
Hiking / Trekking
Dance / Music
Horse Riding
Photography
Gossips with locals
Me time
Foodies
Fairy Meadows Hike / Trek
If you want to further hike / trek towards the Nanga Parbat base camp then you can have this opportunity.There is 8 hour Trek towards the Nanga Parbat base camp.
Dancing Music
If you are music lover and great fan of dancing then these activities will fulfill your purpose, as getting to dance with a group on music is real fun, just like the night bonfire and dance, you can also ask the local people to join your dance and make the party going, or you can also have your own group to dance on great music.
Horse Riding
Horse Riding at fairy meadows is another part of adventure activities, that is somehow costly but worth it. Then comes the best part Photography, its the reason you have traveled 20 Hours right! yes then eye-catching views of Nanga Parbat are waiting for you to take a selfie with the mountain. You will find lot of places and views where you can take group photo, selfies and professional candid photos.
Me Time
Me time: If you want to have me time then this place is highly recommended, you will find a lot of places at fairy meadows where you'll find NO one, but yourself, you can sit alone and have ME TIME.
Food Time
Foods and foodies activities, if you are food lover then you can eat the mouthwatering food at the fairy meadows, food is bit costly due to the remote location and expenditure of the getting food items transported, but you'll love the food quality and taste.
Best time to visit
The best time to visit fairy meadows is MID June to August, when the weather is pleasant, otherwise foreigners visit this destination all over the year. If you plan to visit the Northern areas of Pakistan, with this destination you can visit the Hunza Valley, Skardu, Gilgit, Astore Valley. Also if you take another step then you can visit the Switzerland of Pakistan, the Swat Valley, Chitral, Kalash Valley and coming back towards Islamabad, you can take a short break at Murree Pakistan.