Hunza Valley is a wild, adventurous yet fairy tale destination for mountain & nature lovers. Located in the Extreme Northern areas of Pakistan, the sight of Hunza offers a whole new spectrum of colors. Surrounded by mesmerizing flowering trees, fascinating lakes, lush green meadows and snow-capped mountains, each passing hour, Hunza takes a part of you. Hunza valley attracts tourists all around the globe and is named "Heaven on Earth" by tourists. Not only this, Hunza people are the most welcoming people you have ever met. One never leaves Hunza trying the food and tea served by the locals.
Best Time to Visit Hunza Valley
People usually visit Hunza during Summer and Autumn, mid-June to the end of November, but it depends on what people expect from Hunza. If you love the sight of fascinating flowering trees, then the Autumn season is suitable for you. Autumn season in Hunza starts during mid October and continues till mid November, but very best time to see the changing colors is last week of October.
Hunza Valley Autumn Guide | The Colors of Hunza Valley Pakistan
If you want to enjoy Hunza natural delicacies like fruits such as Hunza cherries, then July and August is suitable. Hunza valley during summer season comes with delectable dry fruits. Dried apricots, dried cherries, Hunza mulberries, almond kelawo, walnut kernel are a few that you can enjoy in Hunza.
So basically, you will never be disappointed to visit the most calming place on earth (Hunza Valley).
History of Hunza
Operating independently for 900 years, Hunza became the part of Pakistan when Britishers captured it in 1889 through a military quest. However, after Britisher's departure, Hunza remained a hidden region until 1974, when Zulfiqar Ali Bhutto discovered it. The central ruling family of Hunza is known as Ayeshe meaning heavenly. Although, Hunza might seem a culture rich region, but the Hunza valley inhabitants have maintained a perfect balance between modern education and preservation of their culture.
Literacy Rate of Hunza People

Hunza people are well educated, sophisticated, friendly, and helping. While you visit Hunza, you can have a heartfelt conversation with Hunza People about the culture, tourists' places, and their living. You'll be surprised to know Hunza people are most educated with a literacy rate of around 99%. Majority of them are either graduates from top-ranked universities from Pakistan. Also, they have a degree/scholarship from Foreign countries.
There is some excellent standing education school like Aga Khan Higher Secondary School, Hunza Public School, Hashegawa Memorial Public School, and Degree College, and many more.
Best Foods Of Hunza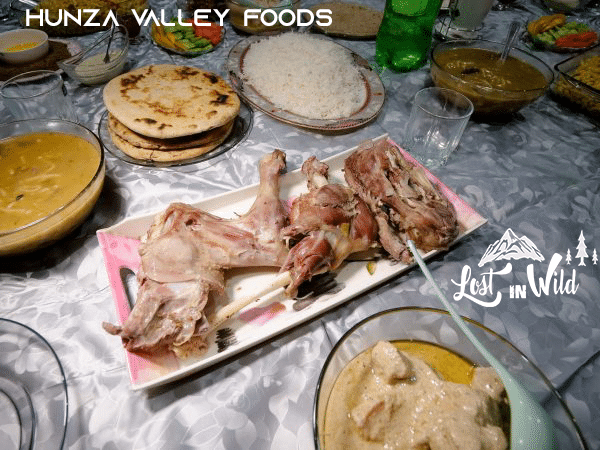 Just like any other region of Pakistan, Hunza has the best traditional yet unique food to offer. You cannot simply leave Hunza without trying their traditional delicacies. The food served in Hunza, although is quite traditional but made in a healthy way to maintain balance. Most of the dishes are prepared in desi ghee with minimal spices yet tasty for everyone's taste buds. The famous dishes of Hunza are Chapshuro, Harissa, Go-Lee, Shapan, Gittay, Diram fitti, and fenugreek soup. One of the hot beverages you will surely not want to miss out in Hunza is Tumora Tea. It's not just a tea, it has a lot of medical benefits including curing headaches, sore throat, and calming nerves.
TOP Attractions of Hunza Valley
Just like Fairy Meadows, Hunza Valley is full of Beautiful eye catching landscapes and Wild Adventure.
There are small villages in Hunza valley and some beautiful landscapes including Duiker Valley (Eagle nest), Attabad Lake, Pasu Cones, Khunjrab Pass, Central Hunza also known as Karimabad, Altit and Baltit villages.
Karimabad Hunza:
Karimabad is a small town and Capital of Hunza valley formally known as Baltit. It is a well-structured and top-ranked tourists' destination of Pakistan. People who visit Northern areas of Pakistan, Karimabad is on the top of their wishlist.
You can find restaurants, guest houses, local shops and a lot of activities during nights and day stay. During day time you can visit 2 famous forts in Hunza valley, Altit and Baltit Forts.
Baltit Fort Hunza:
Baltit Fort is nearly 800 years old mountain-based fort, located in Kraimabad. For its Historical value govt and local people have worked on it to restore the fort and convert it into a guided museum. They charge a minimal fee of PKR 500 that is solely invested in the maintenance.
Duiker Valley (Eagle Nest)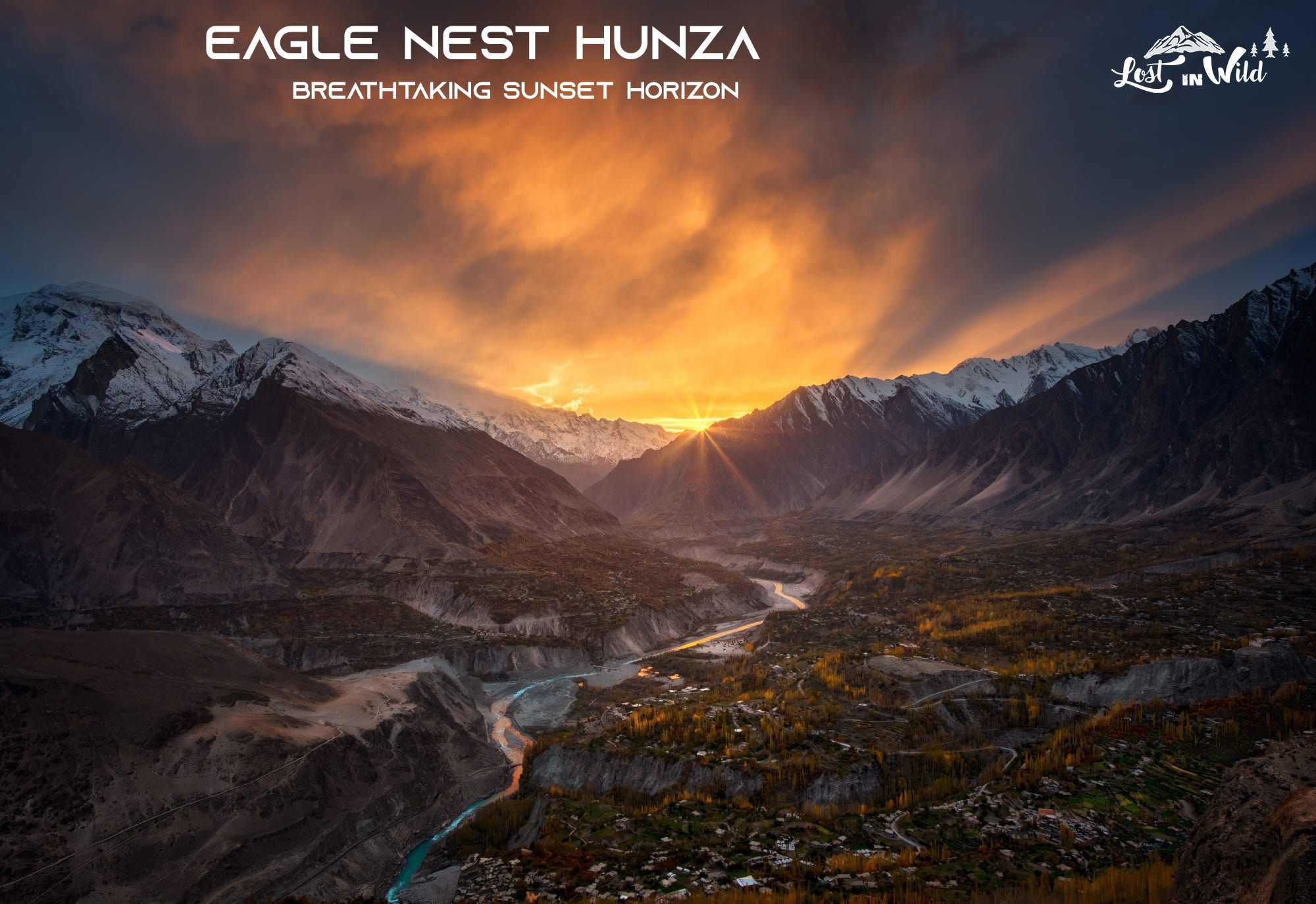 With the beautiful sunset view and breathtaking sites, Duiker valley is a must place to visit. It is known as Eagle Nest where you can visit not only for the most stunning view of sunset horizon, but also enjoy to all the mountains covering the Hunza Valley.
Attabad Lake Hunza:
Attabad lake is breathtaking blue color lake surrounded by snow-capped mountains all around. Hardly 30 minutes ride from Hunza, it is in Attabad, Gojal Valley Hunza. This lake was created after the January 2010 Attabad Disaster. So now Due to its Natural beauty and attraction, it has become most visited tourist spot for adventurers who visit the north. You'll find some great adventure activities like jet skiing, boating, fishing, landscape photography, and outdoor spacious eating area. The sunset views keep you enthralled.
Here is Aerial View of Attabad Lake Hunza
If you are going towards Khunjrab Pass, then staying at Attabad lake for even an hour is enough to make your trip more adventurous.
Here are some Great landscapes of Attabad Lake
Passu Cones Hunza: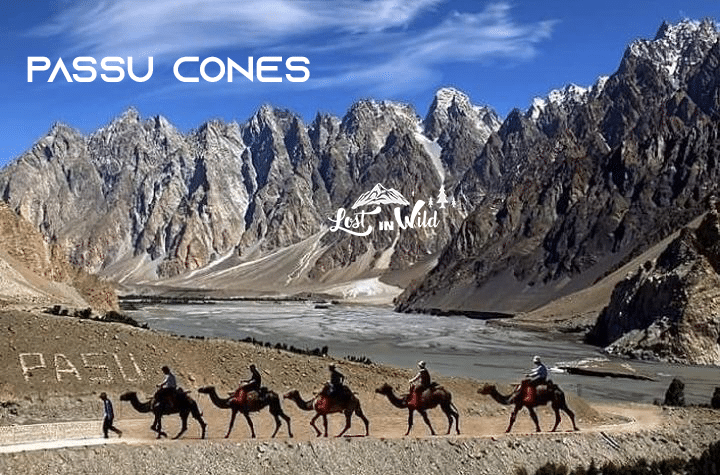 Passu is a small village in Hunza Valley, also known as Passu Cones due to the cone shape of mountains. People visiting Hunza cannot ignore the fairytale magic of Passu. The Passu Sar mountain is tallest amongst the other cones. People while traveling to Khunjrab pass usually stay here for a while to absorb the beauty nature has to offer.
Hussaini Suspension Bridge Hunza:
Hussaini Hanging Bridge is in Gojal, 45 kilometers away from Aliabad Hunza. It is over the Hunza river and connects the Zarabad hamlet to Hussaini village. It is considered to be one of the scariest bridges in Gilgit Baltistan due to massive gaps between planks and the wild swing. It's a real treat for dare devils wandering the world in lust of adventure. The brave tourists find it attracted for the fun photography and cross this bridge with lionheart.
Khunjerab Pass (Pak-China Border):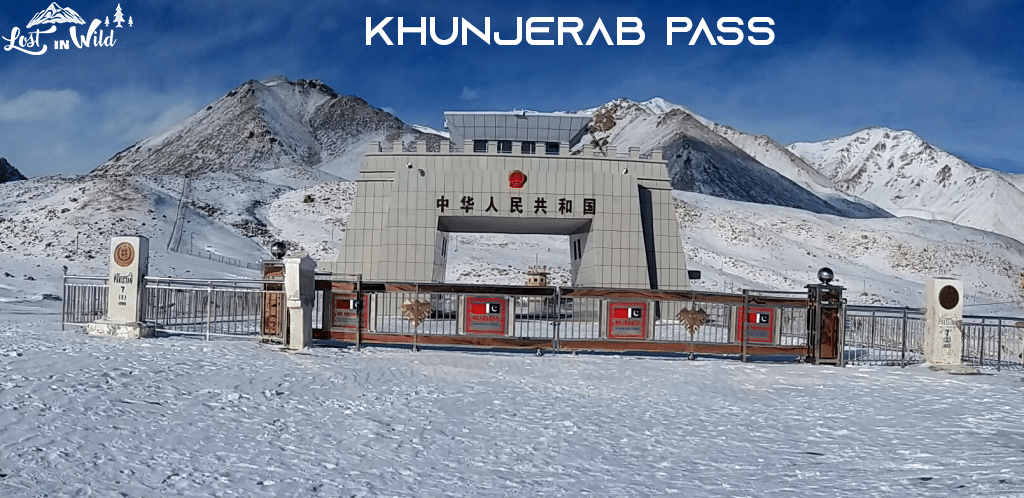 Khunjerab Top /Khunjerab Pass is mountain pass in the northern border of Pakistan in Karakoram Mountains connecting Pakistan with Southwest border of China. At the altitude of 4693 meters (15,397 feet) has become a famous tourist destination. People visit Khunjrab Pass after traveling 5 hours from Hunza to capture the moments at Pak- China Border.
Well during the months of July-August you will find the great weather, even though it's cold up there, but still you will find it worth visiting. Live Snowfall at Khunjerab pass makes it more beautiful.
You can enjoy the snowfall, border photograph, and a light conversation with Chinese people. So, some people dance there to make it in a lifetime tour to Pak China Border. However, do keep in mind some people might difficulty in breathing due to high altitude.
P.S
Photo/Video Credit
Adnan Khokhar
Dr. Irfan Murtaza
Yasir Nisar
Mobeen Ansari
and all those contributed! Thank you!
Writing / Authors:
Dr. Irfan Murtaza
Bisma Latif